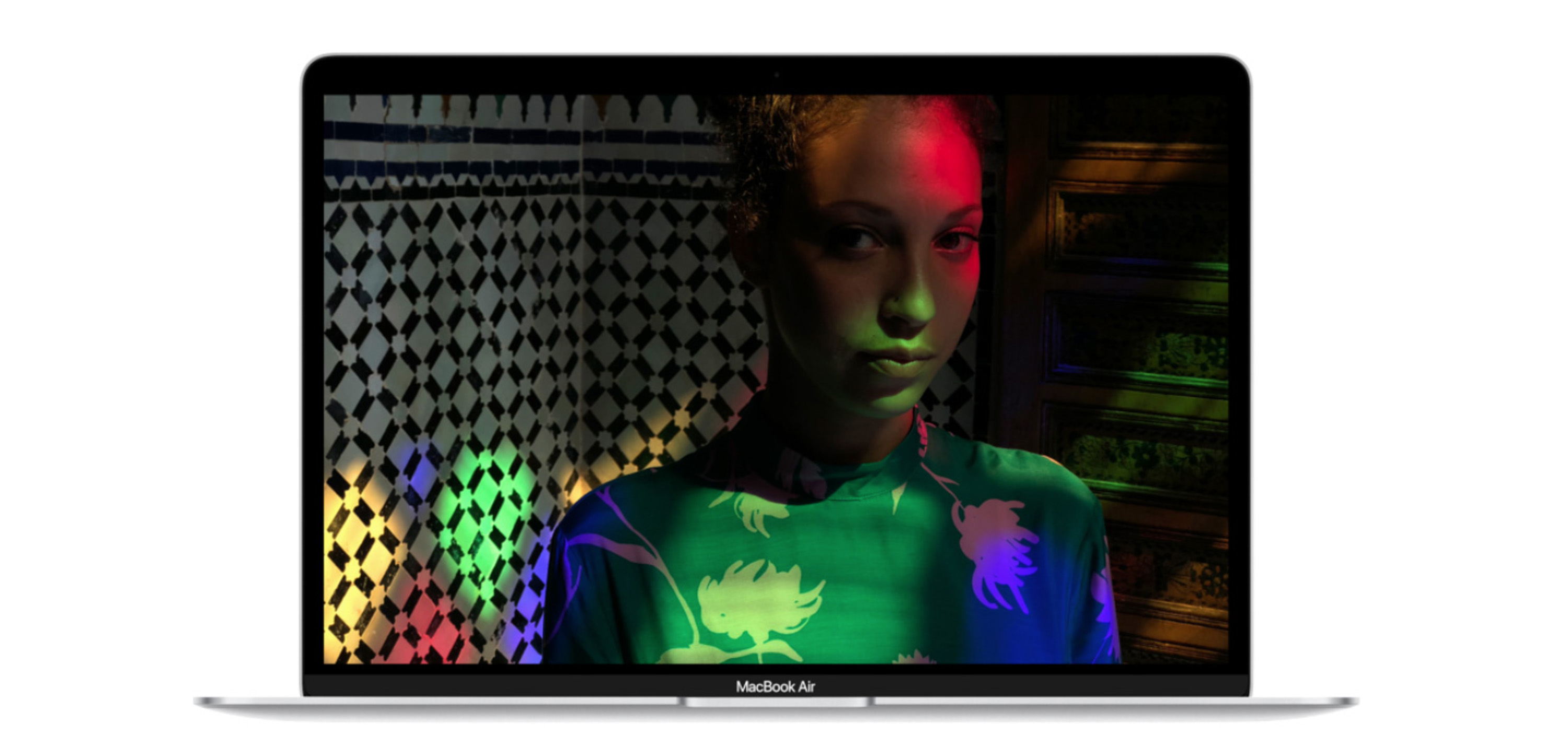 Lightness strikes again
The most loved Mac is about to make you fall in love all over again. The new thinner and lighter MacBook Air features a brilliant Retina display with True Tone technology, Touch ID, the latest-generation keyboard, and a Force Touch trackpad. The iconic wedge is created from 100 percent recycled aluminum, making it the greenest Mac ever. And with all-day battery life, MacBook Air is your perfectly portable, do-it-all notebook.
13.3" high-resolution Retina display

True Tone technology
Razor-sharp text clarity
48% more colors than the non-Retina model
Touch ID
The advanced security and convenience of Touch ID are now built right into MacBook Air. Simply place your finger on the Touch ID sensor and — just like that — your Mac unlocks. Use your fingerprint to immediately access locked documents, notes, and system settings, without entering yet another password. Online shopping is even easier — select Apple Pay at checkout, and with just one touch you're done. No need to enter shipping or billing info, and your card details are never shared. With Touch ID, your private information stays private.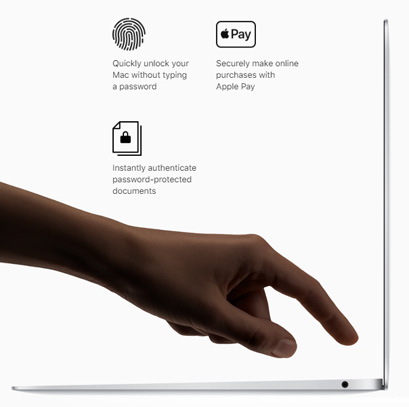 Sound that speaks volumes.
With the latest in processing and tuning techniques, MacBook Air sounds better than ever. Stereo speakers deliver twice the bass and 25 percent more volume than the previous generation. And wider stereo sound creates immersive audio when you're listening to music or watching a movie. The FaceTime camera lets one — or many — of your friends and family members see you in high definition. And three microphones form an array that more accurately captures your voice for FaceTime calls, dictation, and talking to Siri.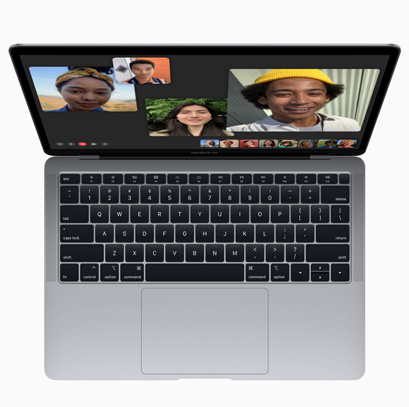 Your all‑purpose, all‑day notebook
Even though it weighs just 2.75 pounds, the new MacBook Air packs quite a punch. An eighth-generation Intel Core i5 processor helps you power through daily activities, from reading email and browsing the web to creating Keynote presentations and editing in iMovie. Up to 16GB of memory lets you work seamlessly even with multiple apps open, while up to 1TB of SSD storage lets you launch apps in a flash and provides plenty of room for all your documents, photos, and videos.
Battery Life – With up to 12 hours of battery life, MacBook Air is your day‑in, day‑out dynamo. Check email, browse the web, shop online, write documents, watch videos, manage spreadsheets, and more, all without plugging in. Taking a transatlantic flight? Line up the movies, because MacBook Air is ready to play for up to 13 hours