This watch has a display that never sleeps
With the new Always-On Retina display, you always see the time and your watch face.
This watch has apps to keep an eye on your heart. Get a quick read on your heart rate, or check your heart rhythm with the ECG app.
And tells you when things are getting a little loud. The new Noise app alerts you when decibels rise to levels that can impact your hearing.
And lets you track your cycle with a tap. The new Cycle Tracking app makes it easy to log information about your menstrual cycle.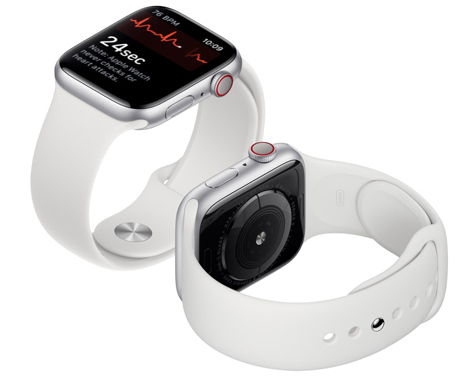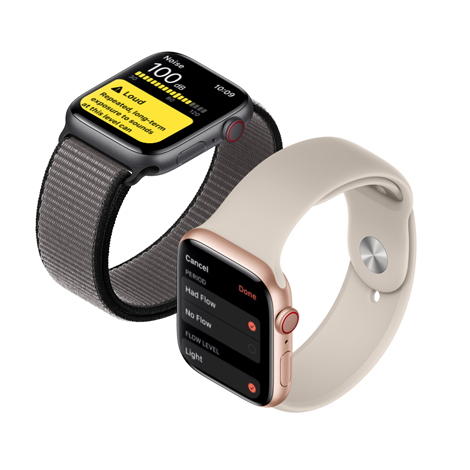 This watch helps you crush your fitness goals. With advanced workout metrics, GPS, and water resistance to 50 meters, it's made for all the ways you exercise.
And motivates you to move, exercise, and stand. The Activity rings track your progress and inspire you to sit less, move more, and exercise every day. You can even compete with friends in challenges.
And streams your favorite 50 million songs. Listen to the entire Apple Music library, not to mention podcasts and audiobooks.

This watch has a great sense of direction. With a compass and ground elevation, it's made for life's twists and turns, and ups and downs.
It gets apps in a snap. The App Store is now on your wrist, so you can find and download the latest apps in seconds.
And pay for stuff, fast. Get your morning coffee. Send money to a friend. Do it instantly and securely with Apple Pay.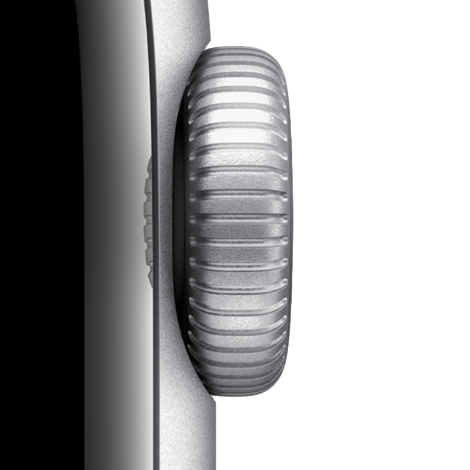 And talk the ear off Siri. Search a topic online, identify a song with Shazam, start a workout, or lower the shades.
Did we mention this watch tells time? With more than a hundred watch faces and infinite ways to personalize them, there's never been a watch like this.
See Apple Watch Series 5 in AR. Open this page in Safari on your iPhone or iPad to view Apple Watch Series 5 in AR.
Every piece a masterpiece. We put as much care into engineering our case materials as we do the technology they contain.
Health
All around, Apple Watch inspires a healthier life. It monitors your heart rate and lets you know if something is wrong. Helps you keep track of your menstrual cycle and taps you if noise levels rise to a point that could impact your hearing. You can also add complications like Breathe, Heart Rate, and Noise to your watch face and keep them top of mind throughout your day. It's the first watch that really watches out for you.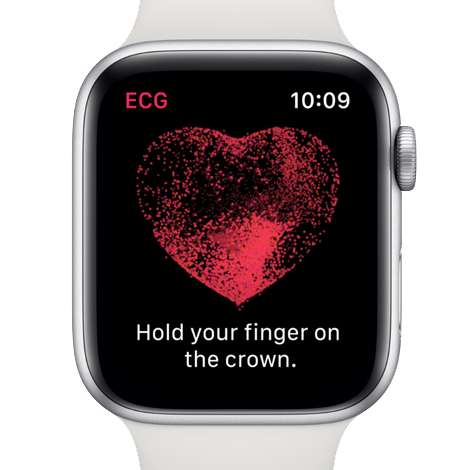 ECG on your wrist. Anytime, anywhere. With the ECG app,1 Apple Watch Series 5 is capable of generating an ECG similar to a single-lead electrocardiogram. It's a momentous achievement for a wearable device that can provide critical data for doctors and peace of mind for you.
Your finger can tell you a lot about your heart. Electrodes built into the Digital Crown and the back crystal work together with the ECG app to read your heart's electrical signals. Simply touch the Digital Crown to generate an ECG waveform in just 30 seconds. The ECG app can indicate whether your heart rhythm shows signs of atrial fibrillation — a serious form of irregular heart rhythm — or sinus rhythm, which means your heart is beating in a normal pattern.
Safe from sound. Noise can rise to levels that may impact your hearing without your even realizing it. The new Noise app senses when the roar of the crowd or the rumble of machinery reaches a level that may pose a risk. So you can step out or plug up to give your ears a needed break.

It has your heart in mind.
Unusually high or low heart rates and irregular heart rhythms (known as arrhythmias) could be signs of a serious condition. But many people don't recognize the symptoms, so the underlying causes often go undiagnosed. With notifications in the Heart Rate app, Apple Watch Series 5 can check your heart and alert you to these irregularities — so you can take action and consult your doctor.
Take a breather Taking moments throughout the day to stop, relax, and practice mindfulness can help reduce stress and improve overall health. The Breathe app keeps you centered by leading you through a series of calming breaths. It's also available as a watch face, so you can bring focus to your day just by raising your wrist.
Apps that make health the first priority. The right apps can play an important role in reminding you to keep up with healthy routines. Whether you want to better manage a condition like diabetes, make healthier food choices, or reduce stress, there's an app designed to help you prioritize your goal. And now that the App Store is right on your wrist, it's even easier to find great health apps.
Dexcom G6. If you have type 1 or type 2 diabetes, you can now check the levels on your glucose monitor, right from your wrist.
YAZIO. Easily log your meals, calculate calories, and track your activity for your personal diet plan.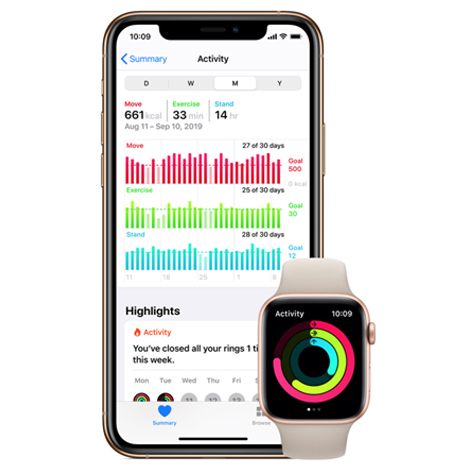 A more personal Health app.
With the redesigned Health app on iPhone, it's easier than ever to access the information that matters most to you. Now you can see automatically generated highlights of how your health data is trending over time.
Track your cycle with a tap. The Cycle Tracking App gives you insight into your menstrual cycle and can help provide a clearer picture of your overall health. In addition to simply ensuring that you're prepared, you'll have more information to help you track irregularities and symptoms and enrich discussions with your doctor.
Workout
Whether you're an elite athlete or you just want to track your daily activity, Apple Watch Series 5 helps you train smarter to get results faster. Now with a display that's always on, your metrics are always visible, so you never have to stop and raise your wrist to see how you're doing. And with 50 million songs to stream from Apple Music, you've got all the motivation you need to keep moving.
Three rings. One goal.
Understanding all the ways you move throughout the day is an essential part of living a healthy life. Apple Watch shows your daily movement as three simple metrics: Move, Exercise, and Stand. Together they make up the Activity rings that track your progress all day long. But Apple Watch doesn't just show you how you're doing, it also keeps you going with motivation from personal coaching, awards, and Activity Competitions. It's everything you need to stay fired up to close your rings 365.
Move. The Move ring tracks the active calories you burn. Active calories are the ones you burn through all kinds of movement, from taking the stairs at work to playing with the kids.
Exercise. The Exercise ring shows you how many minutes of brisk activity you've done, whether you're working out or just moving at a fast pace.
Stand. Sitting too much can contribute to health problems over time. So Apple Watch keeps you motivated to get up throughout the day.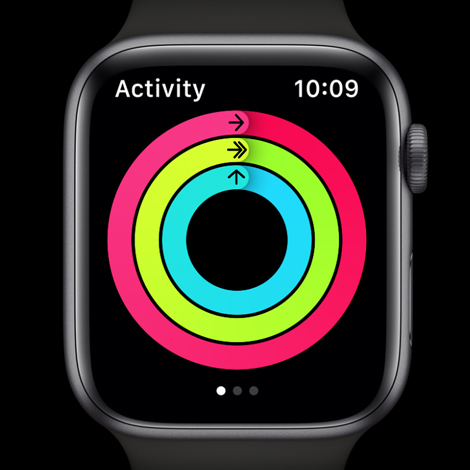 Workouts that don't quit. Cycling, yoga, swimming, high-intensity interval training. You name it, Apple Watch measures it. Set workout-specific goals, see full summaries when you're done, and track how you're trending over time in the Activity app on your iPhone. Apple Watch even works for wheelchair users, with two specific wheelchair workouts.
Swimming metrics. Strokes of genius. Water resistant to 50 meters, Apple Watch Series 5 is designed with swimmers in mind. The Pool Swim workout automatically records splits and sets and can actually recognize your stroke. The Open Water Swim workout visualizes your route on a map. And both precisely track active calories, distance, and overall pace.
Running metrics that go a long way. Apple Watch Series 5 is made to take even the most advanced runner further. Pace alerts give you a gentle tap on the wrist to let you know if you're behind or ahead of where you want to be. Cadence lets you see your steps per minute and helps you refine your running technique. And rolling pace constantly updates, allowing you to see your split for the preceding mile at any time.