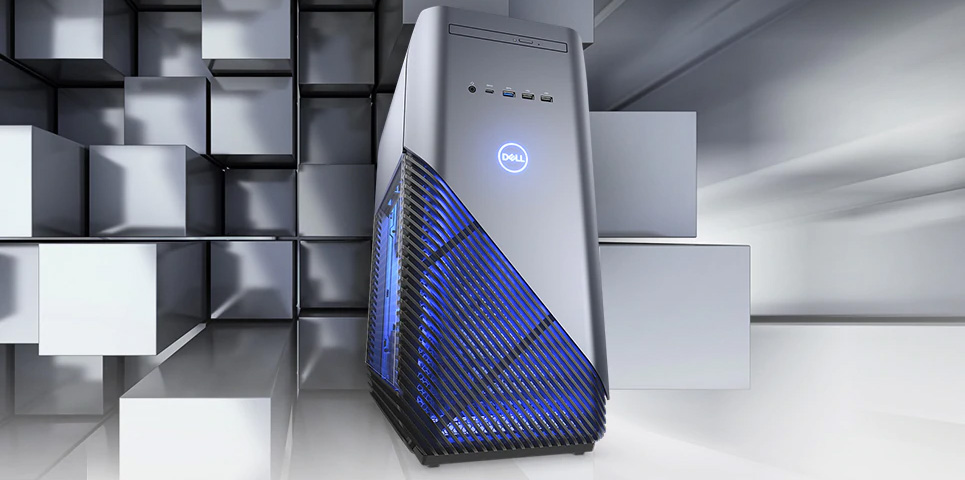 DELL Inspiron 5680 Gaming (6 Core | i5 | 9th Gen | GTX1660 Ti)
Built for a higher state of gaming.
Gaming desktop engineered with a 9th Gen Intel® Core™ processor, VR-ready graphics and a striking design built for optimal cooling and powerful performance.
I5 – 9400 – 6 Core
8GB DDR4
256GB SSD + 1TB 7200 RPM
GTX1660 Ti 6GB
High-powered processing: 9th Gen Intel® quad and hex-core™ processors (up to i9) deliver exceptional performance and headroom for split-second responsiveness and powerful multitasking capabilities.
VR-ready graphics: Designed for performance and expandability, the chassis supports up to NVIDIA® GeForce® GTX 1660Ti discrete graphics cards, configurations that meet Dell's stringent Ready for VR standards.
Do more with more memory: With up to 32GB DDR4 2666 MHz, this gaming desktop is loaded with memory to ensure overall super-powered performance and intensive multitasking.
Better boot time: High capacity hard drive options include dual drive configs and responsive SSD options for faster boot and load times on games & multi-media applications.
Meticulously designed to upgrade your gameplay.
Purposeful design: The Inspiron Gaming Desktop is designed for optimal airflow and temperatures with an optional clear window side panel with Polar Blue LED lighting.
Dynamic audio: Immerse yourself in your games, music and videos with Performance 7.1 Channel HD audio.
Quiet operation: The intelligent thermal design, meticulous component placement and optimized graphics solutions all contribute to efficient noise control.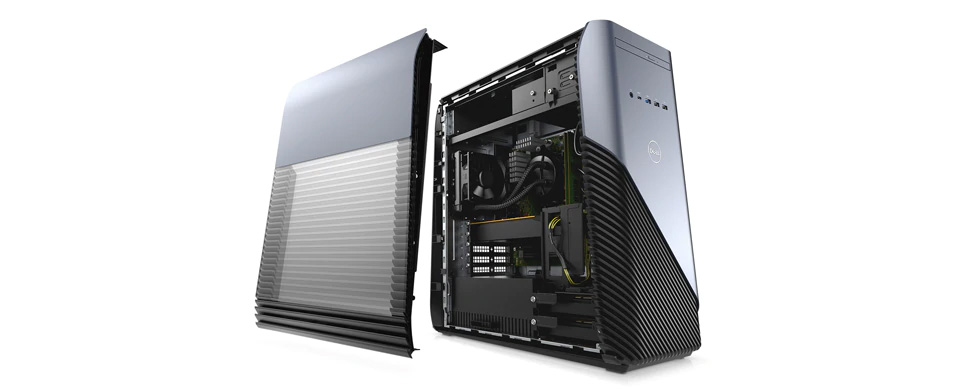 Fast, future-ready technology.
Lightning-quick connection: Systems equipped with the optical drive option have a convenient front-mounted Super Speed USB 3.1 Gen 1 Type-C™ port and up to 7 Super Speed USB 3.1 Gen 1 Type-A ports to easily transfer files, connect and power devices at lightning speed. Base systems offer 8 Super Speed USB 3.1 Gen 1 Type-A ports.
Easy upgradability: Your gaming machine comes with up to 460 Watt Power Supply Unit (PSU), and support for up to 4 storage devices for future upgrades (2x 3.5″ bays, 1x 2.5″ bay, and 1x M.2 slot).
Dominate both screens: An HDMI port allows you to connect to an external monitor to view content in up to UHD/2160p resolution for stunning detail.
See the action: An optional clear window side panel with Polar Blue LED lighting lights up as you game.
Peace of mind: Dell Backup and Recovery software provides flexible, automated backup and recovery to ensure your precious pictures, music and files remain safe-reducing anxieties and fear of data loss. The Inspiron Gaming Desktop also offers available security & antivirus options that help protect your data from malicious attacks.