ILIFE A7 Robot Vacuum Cleaner
Smart Planned Cleaning Robot Vacuum with APP Control
The power of technology
The upgraded CyclonePower cleaning system and accurate planned cleaning system help A7 to achieve maximum coverage and high cleaning efficiency.
User-friendly & anti-stuck
App-controlled and easy to use, A7 performs silent vacuuming and tackles complex cleaning tasks with a full set of sensors. These sensors  also enable an intelligent anti-stuck function  which helps A7 to avoid obstacles and getting stuck between furniture.
Slim body design
At only 76mm, A7's slim profile allows it to comfortably clean under the furniture, including beds and sofas.

Cliff sensors
3 sets of cliff sensor prevent A7 from falling down the stairs and ensure it stops operating when it isn't on a flat surface.
Edge sensors
A7 can detect edges with 2 sets of edge sensor installed on both sides of its body.

Automatic Docks and Charges
The robot will automatically go back to home base to charge when battery runs low.

New exterior design
A7 features a new scratch and wear-resistant glossy black exterior which houses upgraded mechanism for enhanced cleaning performance.
CyclonePower cleaning system
Under the guidance of the Gen 3 CyclonePower cleaning system, A7 cleans your home thoroughly in a single operation.
Triple-headed side brushes
Delivering 170 sweep strokes per minute, the side brushes with medium elastic bristles are precisely  engineered to a size that can maximize dust pickups.
Floating rolling brush
With a 5mm floating range, the rolling brush is able to adjust to floor height variances. This allows it to  maintain close contact with the floor surfaces to  facilitate effective dirt extraction and deep carpet and hard floor cleaning.
Powerful suction
Employing the principles of aerodynamics, the  fully sealed air duct reduces wind resistance and generates powerful suction.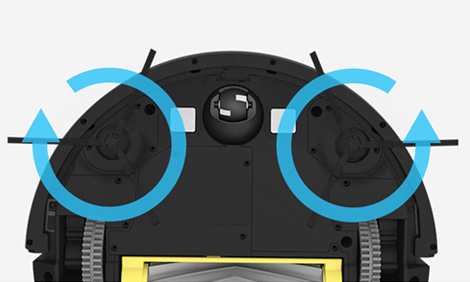 Smart Planned cleaning
The Gen 2 planned cleaning system performs accurate space zoning before planning a cleaning route for A7. The system also adjusts and corrects the route in real time to achieve maximum coverage and minimum incomplete cleaning.
Two suction levels
Defaulted to normal mode, A7 can be easily switched to Max mode to meet specific cleaning needs on different floor types.
Customized scheduling
Multiple schedule modes(Buttons on the body / Remote control / APP),allowing you to preset cleaning schedule for any time and any day, and A7 starts cleaning automatically at the scheduled time.