Samsung DV90M5000QW Heat Pump Tumble Dryer A++ 9kg
Energy Class A ++
Heat Pump technology offers a more efficient, convenient and delicate solution for drying clothes, and thanks to energy class A ++, it ensures extremely low consumption *.

Dry better, consume less.
The duration of each drying cycle is calibrated in total autonomy by a double intelligent sensor that, by constantly monitoring the humidity present in the drum, gives perfect drying without unnecessary waste of time and energy.
2in1 filter
The innovative 2in1 Filter combines two filters in a single solution, eliminating waste of time and energy. Easier to clean, always guarantees excellent performance.
Instant water control
Thanks to the practical indicator in the condensation water tank you can easily check the level and empty it before starting your favorite drying cycle.
Perfect dry in just 35 minutes.
The Rapido 35 'cycle is ideal for small loads. Reduce waiting times in total safety, you can also load a few items at a time and have them available after only 35 minutes.
Immediate resolution of problems
Immediate resolution of problems. The Smart Check automatic error monitoring system detects and diagnoses problems by providing practical solutions via an app on your smartphone *.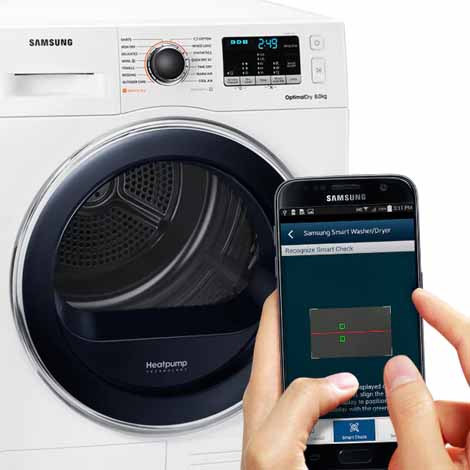 *The images are for demonstration purposes only and some features and colours shown may not be available with this model.
*Up to 1st Floor Free Delivery. 2nd Floor upwards a lifter will be provided at a charge of €35 payable by the client on site and a local council permit needs to be obtained 2 days prior the delivery by the client.