Samsung QuickDrive Washer Dryer 9kg/5kg 1400rpm A  WD90N642OOW
Quick drive: wash up to twice as fast
QuickDrive ensures that washing is up to twice as fast and uses up to 20% less energy, while the washing result remains the same. * The washing machine is equipped with a 'Q-Drum ™' consisting of a 'main drum' with 'back plate' that move independently of each other, so that your clothing is dynamically washed by the cooperating movements. The washing machine ensures a fast, powerful wash and keeps your clothes nice. *

Add clothing whenever you want
Forgot a sock? Thanks to the AddWash ™ door you can quickly and easily add forgotten items of clothing *, even if the washing program has already started. You can also easily add hand-washed clothes that you just want to rinse or spin.

Washing & drying in 3 hours
Within 3 hours, clothing that you often wear – for example, work clothing – is washed and dry. A Speed ​​Wash + Dry program washes, rinses and spins a load in 54 minutes *. And after another 126 minutes the clothing is completely dry *.
AI-powered washing assistant
Q-rator is an intelligent management system * that uses data collected through user interactions ** so that QuickDrive ™ can be used more efficiently. Washing recipe indicates what the best washing program is ***, Washing planner helps you optimize your washing schedule ****, and 'HomeCare Wizard' makes it possible to solve problems remotely.

Clean your clothes with air
Air Wash technology cleans the clothes and removes odors, so they always smell fresh. The hot air eliminates odors and bacteria without the use of water, chemicals and detergent.

Powerful bubbles
EcoBubble ™ technology washes powerful even at low temperatures *. Detergent is converted into bubbles so that it can penetrate the fabric quickly and remove dirt, while the color and texture remain intact and less energy is required **.
Actively remove stains
The Bubble Soak function removes even the most stubborn stains with the simple push of a button. Clothing is thoroughly soaked in active soap bubbles, so that dirt and stains come off and are removed much more effectively.

Hygienically clean
Clean your clothes thoroughly and hygienically with steam. A powerful Hygiene Steam program injects steam into the drum, after which the steam penetrates quickly and deeply into every item of clothing. Stubborn dirt is removed and 99.9% of bacteria and allergens are killed.
Keep the inside clean
Keep your machine hygienically clean while at the same time being environmentally aware and saving money. Eco Drum Clean removes dirt and 99% of bacteria that cause bad odors through a combination of soaking, pulsing and high speed – without expensive or aggressive means. You will be notified when your washing machine needs to be cleaned.
Long-term performance
The Ceramic Heater Plus has a new special anti-adhesion coating, which means that less lime remains on the heating element than with conventional ceramic heating elements *. The patented design ** ensures that there is less limescale that prevents thermal conductivity, so that the heating lasts longer and is more durable.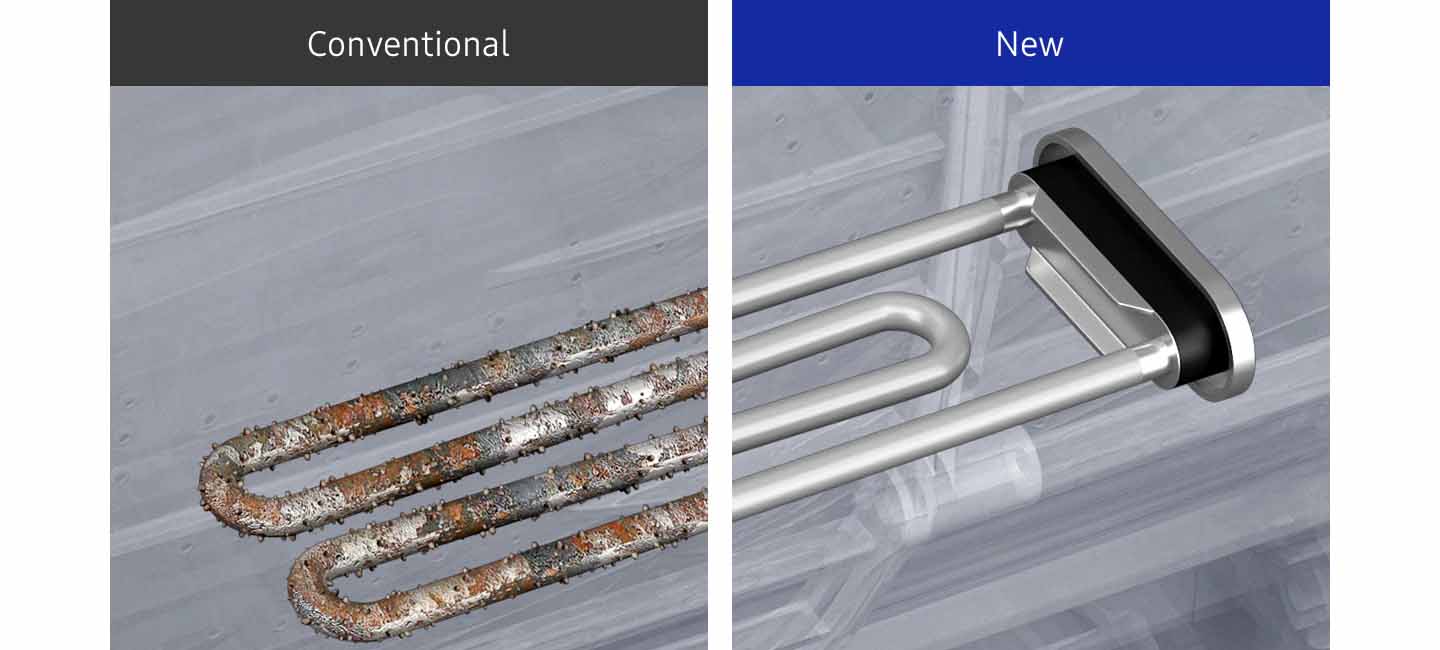 *The images are for demonstration purposes only and some features and colours shown may not be available with this model.
*Up to 1st Floor Free Delivery. 2nd Floor upwards a lifter will be provided at a charge of €35 payable by the client on site and a local council permit needs to be obtained 2 days prior the delivery by the client.