Samsung QuickDrive Washing Machine 8kg 1400rpm A+++ WW80M642OBW
The new generation of washing. Impeccable clean in half the time *
The innovative QuickDrive ™ technology reduces washing time by up to 50%, achieving an impeccable clean, without sacrificing delicacy on garments and energy efficiency. The new QuickDrive ™ double movement basket, thanks to a self-moving bottom, moves the garments dynamically, optimizing all the washing phases *.


Everything under control, always and everywhere *
Optimal program * recommends the ideal washing cycle based on the type of garments, color and dirt level of your load **.
With the Wasplanner you can set an end time yourself and determine when the laundry is done. This way you don't have to tune your daily schedule *** to the washing machine.
The HomeCare Wizard keeps your washing machine in optimum condition by remotely identifying problems and solving them quickly.
Quick cleaning
Perfect laundry in just 39 minutes *
Rapid Ecolavaggio® reduces your washing time by 34% every day to make it last for just 39 minutes *. QuickDrive ™ saves time, because it moves the garments in a dynamic way, while Ecolavaggio® guarantees an exceptional cleanness. The rinsing times are also reduced thanks to Speed ​​Spray, the BubbleCARE ** basket and a higher spin speed.
Ecolavaggio
Unparalleled performance
The Ecolavaggio® technology ensures absolutely efficient cleaning, even at low temperatures *. The detergent is transformed into bubbles, which penetrate quickly into the fabrics and easily remove dirt, protecting colors and materials and saving energy **.
Actively remove stains
Powerful bubbles for stubborn stains
The Bubble Soak function removes even the most stubborn stains with the simple push of a button. Clothing is thoroughly soaked in active soap bubbles, so that dirt and stains come off and are removed much more effectively.

Silent, powerful & sustainable performance
Digital Inverter Technology uses strong magnets for quieter and more powerful performance, while using less energy than with a regular motor. Because no brushes are used, the washing machine will last much longer * and we can give a 10-year warranty.
Long-term performance
Durable heating element
The Ceramic Heater Plus has a new special anti-adhesion coating, which means that less lime remains on the heating element than with conventional ceramic heating elements *. The patented design ** ensures that there is less limescale that prevents thermal conductivity, so that the heating lasts longer and is more durable.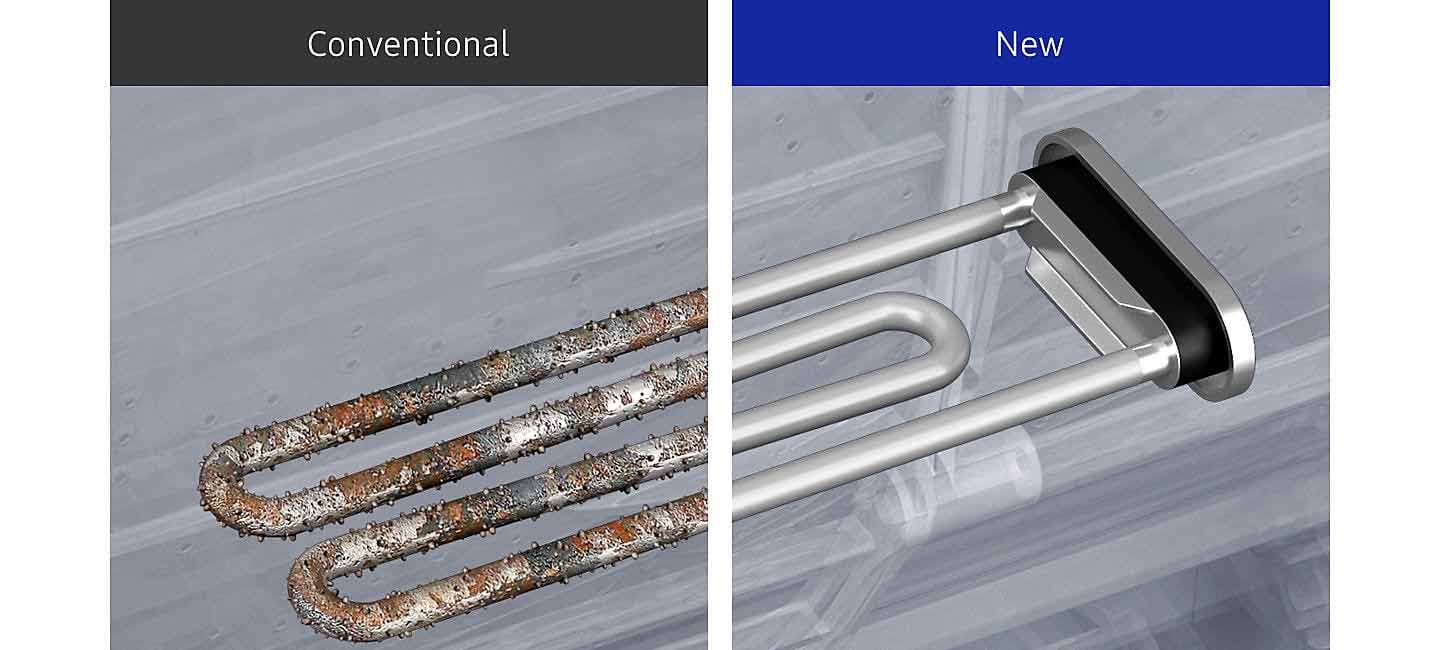 *The images are for demonstration purposes only and some features and colours shown may not be available with this model.
*Up to 1st Floor Free Delivery. 2nd Floor upwards a lifter will be provided at a charge of €35 payable by the client on site and a local council permit needs to be obtained 2 days prior the delivery by the client.