SOG Wireless Gamepad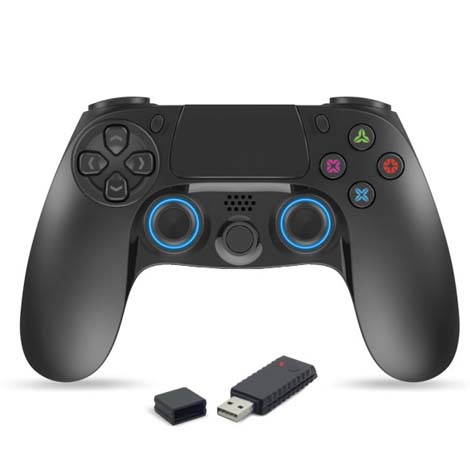 The SOG WIRELESS GAMEPAD 2.4 GHz is a controller dedicated to the PLAYSTATION 3 and the PC (Windows XP, Vista, 7/8/10) .The little "more" important for maximum gaming sensation is that the handle is with a double vibration motor !
The joystick SPIRIT OF GAMER has multiple options that will delight the purists of the Sony console. It has a gamepad 3-in-1, the traditional cross eight-way D, 12 buttons, a dual analog stick ultra-precise 360 ​​° analog and left-right triggers, a turbo button and button RapidFire without forgetting the menu button "Home."
Side look, new SOG controllers offer a highly ergonomic design and optimum grip. They also include an LED indicator to signify their working condition or standby. Finally, for the wired version the USB cable is 1.80 m and the non wired version (2.4 GHz RF connectivity) the scope of action is 8 meters.
2.4GHz RF Wireless Controller for PlayStation ® 3 and PC
Integrated Dual Mode: X-Input & Direct-Input for greater compatibility Games.
RF 2.4GHz connection technology with a Range of up to 8 meters.
Lithium Polymer 600mAh battery for playing up to 12 hours in a row
Charging time 2 to 3 hours
Analog Sticks 360 ° eccentric for comfort
eight-way D ultra precise Cross
Analog triggers and bumpers Double
12 numeric buttons, including [Home], [Start], [Select] …
Special function "Rapid Fire" with the [Turbo]
Double vibration motors for maximum sensation Games.
Compatibility: PlayStation 3 and Windows XP to Windows 10
LED indicators (connection charge, discharge …)
Nano USB receiver