SOG Xpert H2 Gaming Headset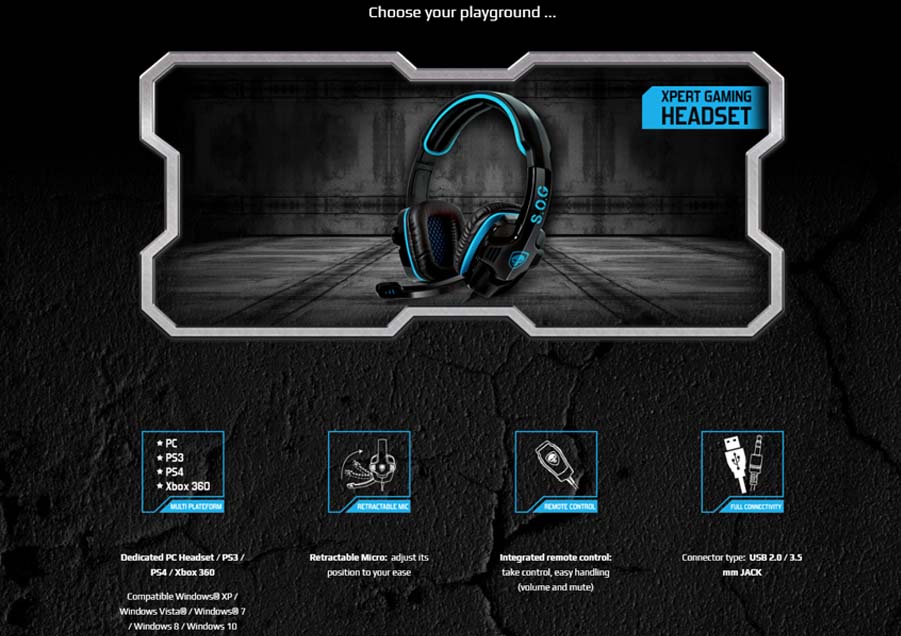 XPERT-H2 has the effect of a bomb in the universe gaming … Pure design, optimal sound insulation, retractable microphone integrated … The XPERT-H2 headset provides a very realistic gaming experience!
The must ! Choose your platform … Who does not want to take a combination exoskeleton in the latest installment of Call of Duty on PS4? Or wake LOL Champion in you PC? On the chain the Trevor missions in Grand Theft Auto V on Xbox 360 … With XPERT-H2 you get a sound platform! Indeed the headset is compatible with your PS4, PS3, XBOX 360 or PC. One headset, several possibilities, XPERT-H2 embarks simple connections to use and ultra complete!
With its retractable omnidirectional microphone and ultra-sensitive, XPERT-H2 allows you to immerse yourself in the heart of the battle. At the head of your unit to meet the enemy! You interact with your allies and implement the perfect strategy to frag your opponents.
XPERT-H2 thus establishes the connection between you and your army, guild for network game play flawlessly. The integrated remote control (+/- adjustment, mute) is the essential tool to adjust the frequency of exchanges and thus enjoy clear and specific discussions with the rest of your troops
It is under fire bullets (or spells) you can enjoy playing comfort offered by the XPERT-H2 headset. It will transport you in the front line for total immersion through optimal sound insulation. The cries of the Kalashnikov, C4 explosions and the thud of the engines rattle the invincible hero who is in you, giving way to thrill. With his headphones 40mm XPERT-H2 throws with rich sound and powerful bass! His circum-aural design immerses you in the mayhem, brushing reality …
With the colors Black and Victory Red, decorated with the famous skull Spirit, the headset offers a real look Gamer! Ergonomics is also the highlight of the gaming headset. Indeed, XPERT-H2 features a padded headband, comfortable and adjustable. In addition, ultra-soft ear cushions provide perfect comfort for parties that last, that last … Uniting comfort and lightness, XPERT-H2 is the perfect ally Gamers looking for thrills.
USE : Gaming
INTERFACE : USB 2.0 / 3.5 mm JACK
ERGONOMICS: Circumaural
SETTINGS : arch / mic
HELMET FREQUENCY : 20Hz to 20KHz (audio) / 50Hz to 10KHz (micro)
PRESSURE LEVEL : 112 dB (A) 32 Ω
IMPEDANCE 32 Ω (audio) / 2.2 Ω (micro)
SOUND QUALITY : Stereo 2.0
MICRO : Retractable
MAGNET : neodymium
MIC SENSITIVITY : -54 (± 3 dB)
CONTROLLER : Integrated remote control (volume)
 PLATFORM : PC / PS3 / PS4 / Xbox360
OPERATING SYSTEM : Windows® XP / Windows Vista® / Windows® 7 / Windows 8 / Windows 10
Installation : Plug & play