SOG Xpert H9 Gaming Headset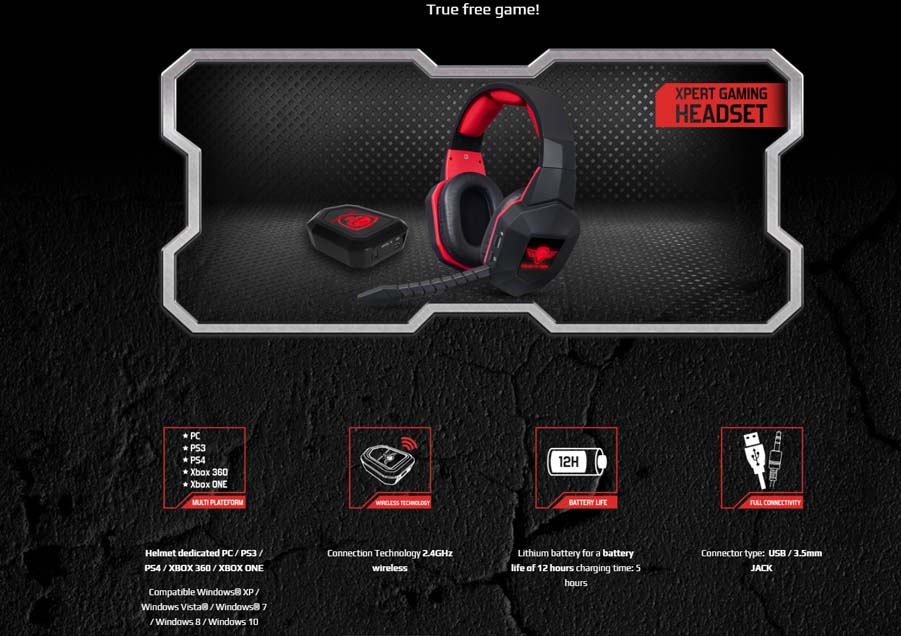 XPERT-H9 has two major assets: its wireless system and cross-platform compatibility. Indeed, the XPERT-H9 Wireless works with a range of 10 meters with an RF transmitter 2.4GHz. A powerful self! XPERT-H9 playing the game since the lithium battery has a battery life of 12 hours. It allows a great day of play seamlessly! Expect good 5 hours to recharge …
XPERT-H9 has a detachable omni-directional microphone for clear and accurate discussions with your team especially valuable for the parties to networked FPS! The volume of the speakers and the microphone instantly adjust via commands embedded in the headphones. The sound quality with the speakers 40 mm (neodymium magnets) and ensures a good response at low frequencies.
XPERT H9 offers some benefit for casual gamers as for the more experienced players: true freedom game with compatibility with PC, MAC but also with the PS3, PS4, XBOX 360 and XBOX ONE! It offers a wide choice of playgrounds! You are followers of the multi-platform game? Enjoy the multi-compatibility of the helmet that avoids the multiplication of accessories. XPERT-H9 is also used as a multimedia headphones designed for music lovers and movie buffs.
The design of XPERT-H9 helmet fill you for sure, since all the codes are waiting for you: clean lines, XXL design headphones, backlight, the emblem Skull Spirit Of Gamer black and red … And finally, XPERT -H9 is not only beautiful, it is also ergonomic and comfortable with a circum-aural design, adjustable and padded headband as headphones, bright red leather.
USE: Gaming
INTERFACE : No 2.4GHz RF wireless
ERGONOMICS: Circumaural
SETTINGS : arch / mic
HELMET FREQUENCY : 20Hz to 20KHz
PRESSURE LEVEL : 85 dB (A)
IMPEDANCE 32 Ω (audio) / 100Hz to 8KHz (micro)
SOUND QUALITY : Stereo 2.0 / Powerful bass
MICRO : Omni-directional design and removable, ultra sensitive
MAGNET : neodymium
MIC SENSITIVITY : -52 dB
CONTROLLER : Integrated remote control (volume / mute)
PLATFORM : PC / PS3 / PS4 / Xbox360 / XboxONE
OPERATING SYSTEM : Windows® XP / Windows Vista® / Windows® 7 / Windows 8 / Windows 10
Installation : Plug & play