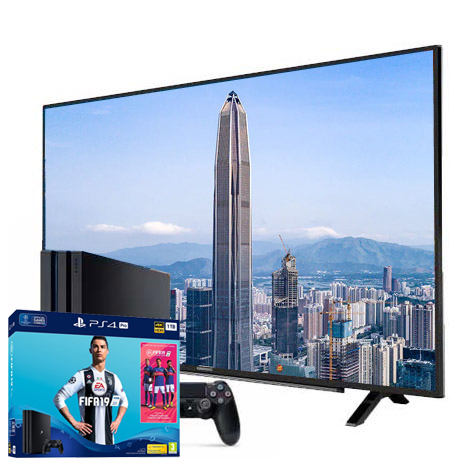 Gaming, Grundig TVs, PlayStation, Gaming Consoles
Sony Playstation 4 Pro 1TB Fifa 19 Bundle+ Grundig 4K 55″ TV

---
Sony Playstation 4 Pro 1TB Fifa 19 Bundle+ Grundig 4K 55″ TV By boosting the performance and capability of the system architecture including the CPU and GPU, PS4 Pro allows games to deliver graphics with far more detail and unprecedented visual precision. Users with 4K TVs will be able to enjoy all PS4 titles in …
€1,100.00

earn 1,976 points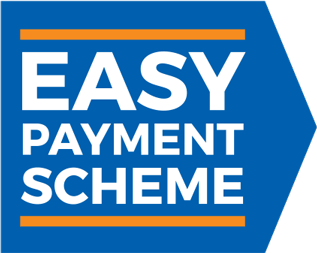 Easy Payment Scheme Option:
24 monthly payments of €50.64
Sony Playstation 4 Pro 1TB Fifa 19 Bundle+ Grundig 4K 55″ TV
By boosting the performance and capability of the system architecture including the CPU and GPU, PS4 Pro allows games to deliver graphics with far more detail and unprecedented visual precision. Users with 4K TVs will be able to enjoy all PS4 titles in higher quality, such as 4K quality*1 resolution and faster or more stable frame rates. In addition, PS4 Pro supports 4K video playback to deliver 4K streaming video services such as Netflix and YouTube.
READY TO LEVEL UP?
Dynamic 4K Gaming & 4K Entertainment*
Spectacular Graphics Explore vivid game worlds with rich visuals heightened by Sony Playstation 4 Pro 1TB.
Sony Playstation 4 Pro 1TB DUALSHOCK 4 
The DUALSHOCK 4 wireless controller features familiar controls while incorporating new ways to interact with games and other players. Improved dual analog sticks and trigger buttons offer an even greater sense of control, while the capacitive touch pad opens up endless potential for new gameplay possibilities. Experience the evolution of play with the DUALSHOCK 4 wireless controller.
Stay In The Game
Connect to your Sony Playstation 4 Pro 1TB system, manage your game downloads, and be ready to game when you walk in the door. The PlayStation App (iOS & Android) lets you control your PS4 remotely, stay up to date on the games you play, and adds a second-screen experience to hit titles – all from one smooth interface. Now PlayStation goes where you go.
Go directly to the PlayStation Store to purchase the latest hit games, and push them to your PS4 at home so it's ready when you are. Manage your PlayStation account, keep up with What's new, and monitor your friend's Trophies.
Chat with your friends, receive notifications and invitations, and even issue challenges to your gaming friends.
You can sync up a smartphone or tablet with your PS4 to navigate around the XMB and use the on-screen keyboard.

Package content includes the below
HDMI Cable
Ps4 Pro console
Ps4 Wireless Controller
Sony Headset
Power cable
Click here to  Sony Playstation 4 Pro 1TB Fifa 19 Bundle
Grundig 4K Smart TV 55″ GUT 8860

Grundig 4K Smart TV 55″ GUT 8860
HDR (High Dynamic Range)
Grundig Magic Fidelity technology with 40 watts of power
SMART Inter @ ctive TV 4.0 Plus