The long-awaited Samsung Galaxy S20 series has been launched, and there's lots of exciting features to talk about. Here at Intercomp Malta, we will have two models in different colours for you to choose from, these will be the Samsung Galaxy S20 and the Samsung Galaxy S20+. But what's the difference and which is right for you?
The Camera
All models have three rear cameras – Wide, Ultra Wide and Telephoto – promising studio quality pics without owning a giant clunky camera, for those typical photos of all the Malta views.
Zooming Capabilities
Zoom on mobile phones hasn't always been very reliable. And when you're trying to get a tight zoom, you can often get blurry, pixelated images. But not anymore. All Galaxy S20 models offer an eye-popping 30x zoom.
Recording Features
The Galaxy S20 range are a video maker's dream. Shoot in glorious 8K resolution at a massive 24FPS, while Super Steady 2.0 tech keeps everything smooth and seamless. Handheld footage? You'd never know it.
64MP lets you pinch in. Again. And again
Galaxy S20 and S20+'s 64 megapixel high resolution camera offers sharper resolution that keeps the clarity, even when you crop way into images.
Capture more of the night
The larger image sensor gives you crisp and bright low light photos, and it's even brighter in Night mode. The camera can capture multiple shots at once, merging them into one photo with less blur and noise.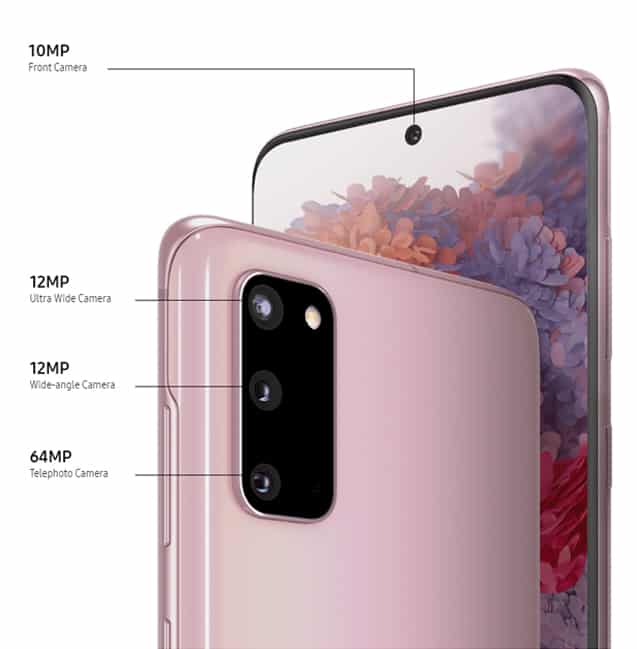 Amazing Screen
And what's the point of shooting beautiful footage without the best screen to watch it on? With an iconic edge-to-edge infinity-O display, you'll get a premium screen regardless of which model you pick. The only choice you'll have to make is the size, the Galaxy S20 has a generous 6.2-inch display, the Galaxy S20+ measures in at 6.7 inches.
Robust Processor and Memory
Every Galaxy S20 comes packed with an Exynos 990 powerhouse processor. Combine this with plenty of memory and you've got a set-up which is great for gaming and seamlessly switching between apps. So, whether, you're a Fortnite fanatic or a multitasking maestro, your Galaxy S20 has the power and performance to handle it all.
And you don't need to be afraid of loading your Galaxy S20 with your favourite games and apps either. The Galaxy S20 comes with 128GB of storage right out of the box, and this can be ramped up all the way to 1TB with a microSD card, which you can also find any of our Intercomp Malta stores.
The new way to gain Battery Life
Don't wait around all day for a full battery. Super Fast Charging fills you up in no time. The Galaxy S20 comes with a big 4000 mAh. If you're feeling generous, you can even place your phones back to back and share power with your mates.
If you're tempted to get yourself a brand new Samsung Galaxy S20 or the Samsung Galaxy S20+, you might want to Pre-Order.
Or for more information you may contact a member of our team on [email protected]
You may also visit any of our outlets located at: