BOWE SYSTEC – High Performance Inserting Systems 
New advances in technology are now
providing automated paper folding and inserting systems that are easy-to-use, flexible and can be custom-fit with a number of features to meet your needs. Even better – these new systems will not stretch your budget and will allow you to reduce your folding and inserting costs without sacrificing dependability. Designed in various configuration setups, folding and inserting systems improve the speed, accuracy and efficiency of processing your outgoing mail.
By utilizing select folding and inserting systems, you can automatically: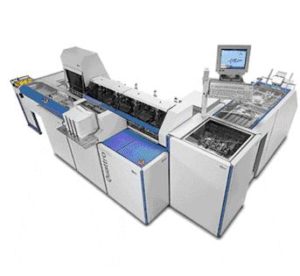 Fold and insert documents of different sizes and textures.
Pre-fold documents before inserting them into an envelope.
Set memory functions to custom fold papers for frequent jobs
Adjust speed to accommodate various weights and textures of papers.
Load while running to provide higher efficiency and production.
Whether you have low-volume monthly or quarterly mailings, or thousands of pieces that are mailed daily, there are a variety of folder and inserter systems to choose from.
BÖWE SYSTEC offers innovative, customer-specific product solutions – and more.
Our comprehensive range of services covers everything from quote preparation to project management, system installation and full after-sales service.
If you want to learn more about paper handling systems from BÖWE SYSTEC please contact us today on +356 22916159 or via email at [email protected]
Find out more information on BOWE-SYSTEC Paper Handling Solutions
---
STAGO Solutions
For bookbinders, printers, banks, insurance companies, local councils, industry, etc…
Practical solutions for practical applications – For the past 75 years, STAGO GmbH has been developing and constructing paper processing machines in close collaboration with its customers for use in all applications involving the production of information material.
In this regard, the focus is always on the aspects of functionality, precision and a high level of user-friendliness. Sophisticated and carefully tuned mechanical systems, state-of-the-art drives and electrical systems coupled with wear-resistant materials ensure perfect operation for many years to come.
If you want to learn more about paper systems from STAGO please contact us on +356 22916159 or via email at  [email protected]
View more information on STAGO Solutions.