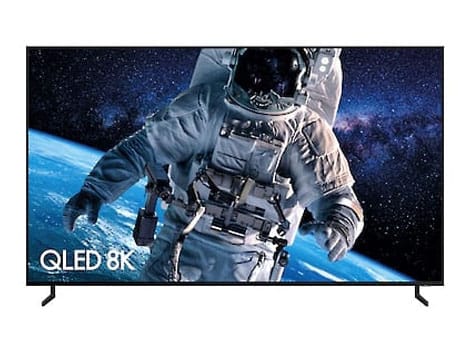 Your TV Screen will come to life with the power of 8K
Technology is constantly improving the entertainment experience. Thanks to the 8K revolution, we're seeing the results of that on our home screens in Malta too.
Due to the new very high quality picture, the new range of Samsung QLED 8K TVs available in Malta, seems ready to take over our TV time. Although, how much better is 8K TV really? And how will it make TV, film, gaming and sports more a more real and immersive experience?
The following, are six reasons Samsung's 8K TVs could be the right fit for you.
Free Delivery to Malta & Gozo
Get in touch with our sales team on [email protected] or call us on 2291 6666 or chat with us through our website chat or Facebook Messenger.
1. Samsung created the world's first QLED TV
So if you want 8K now, then the Samsung QLED 8K TV available from Intercomp Malta is the TV for you. With an 8K TV, you'll get four times the resolution of 4K and a massive 16 times the resolution of HD. For all the Maltese visual nerds out there, that's over 33 million pixels on your screen. With means that any shows, films and games will feel more lifelike than ever before, with details, depth, contrast and colour which allow the picture to jump out of your screen. We all want to feel like we're a part of whatever is on our TV screen and 8K does just that.
2. It makes everything look way better
Upscaling is important because, not all you watch is going to be 8K or even 4K. So, it's about taking any content, whether that's a classic movie or your favourite YouTuber and making it look as great as possible.
That's what the QLED 8K TV does for 4K footage, it makes it look much more lifelike and detailed than a standard 4K TV can manage. The secret is a combination of Samsung's AI, super-fast Quantum processor and large QLED screens. There's a lot of computing power that goes into a beautiful picture.
3. All your fave content in one place
With such an amazing picture, it would be beneficial to keep all the best shows and movies in one place, and that is what your 8K TV will offer you.
With anything from Netflix, Amazon Prime, Apple TV or even local TV in Malta's 4K entertainment, and all suited to 8K greatness. So, you will not need any extra boxes or streaming sticks. This is all available with the press of a button or by activating Samsung's voice assistant, Bixby. Bid farewell to several different remote controls that you've misspalced.
4. Upgrade to gaming
Gamers in Malta know all too well that there's nothing to put you off of the game quicker than ugly, laggy gameplay.
Samsung's QLED slides gaming into 8K resolution, only displauing the sharpest picture quality you can imagine at 60 frames per second. This provides games with the Hollywood treatment.
With the 2020 release of next-gen 8K compatible gaming consoles, only a screen with the power of the QLED 8K will be able to do them justice.
Also, because you get much higher contrasts, the improved brightness and shadow detail takes the whole gaming experience to a whole new level. Then there's something called Variable Refresh Rate, which means much less lag.
Therefore, if  you're a Fortnite fan or if you're saddling up for some Red Dead, your 8K TV will make you feel like your actually in the game.
5. It brings the cinema into your front room
Film producers are using the new 8K technology to their absolute advantage, in that they are able to produce more visually stunning movies than ever before. To be able to experience the latest blockbuster action film in Malta the way it was intended means having a TV screen that is up to standard.
With 8K, lines are sharper, fine textures are clearly more visible and contrast is much deeper. That means that with a much better picture, your eyes won't look away from your TV screen for a second.
6. You won't need stadium tickets anymore
The atmosphere of a stadium is certainly hard to replicate on a TV screen. It entails getting so close to the action that you feel like you're right there with them.
The depth that 8K brings to any form of sporting event feels like 3D. Also, you don't need to view the match on a large pub screen in Malta to fully enjoy it due to the sufficient sense of depth that the picture quality provides.
Because the picture quality is so great, broadcasters in Malta will be able to shoot wider footage, this means that viewers will experience fewer cutaways, that will keep you a part of the action.